ICALEPCS Lifetime Achievement Award
presented by the ICALEPCS International Scientific Advisory Committee
to
Martin R. Kraimer
Leo R. Dalesio
Jeffrey O. Hill
Kobe, Japan, October 15, 2009
The ICALEPCS Lifetime Achievement Award is presented by the ICALEPCS International Scientific Advisory Committee to recognize those who through their vision, leadership and technical excellence have influenced the practice of control system development beyond the boundaries of their home laboratory or nation.
This first ICALEPCS Lifetime Achievement Award is awarded to Martin R. Kraimer, Leo R. Dalesio, and Jeffrey O. Hill – three individuals who have dedicated the last twenty plus years to the creation, development, and nurturing of the EPICS control system toolkit and the EPICS collaboration.
Since its beginning as a two-project collaboration in 1989, EPICS has become globally recognized as a capable, robust, and extensible control system infrastructure for a wide range of projects. It is used on hundreds of projects, including accelerators, tokomaks, telescopes and others, in over seventeen countries. Many commercial equipment vendors now advertise "EPICS drivers" for their technical equipment.
In addition to their technical achievement, these three have worked tirelessly to foster the spirit of collaboration that has been vital to the success of EPICS - removing technical and political barriers to collaboration, creating documentation, providing training and organizing collaboration meetings. With their vision, technical excellence and collaborative approach they have pioneered a new paradigm of global cooperation that has greatly influenced the international practice of control system development for large experimental physics projects.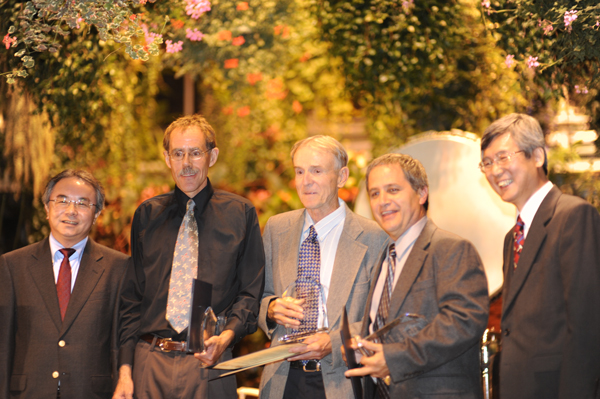 Left to right: Ryotaro Tanaka(ICALEPCS2009 Chair), Jeffrey O. Hill, Martin R. Kraimer,
Leo R. Daleisio, In Soo Ko(ICALEPCS ISAC Chair), October 15, 2009, Kobe Japan.